Drive Growth & Create Savings

.
Our proven strategies drive growth and create saving by supplementing or outsourcing circulation, newsstand or data.  Whether it's growing your audience through email, direct mail, social, 3rd party partners, expire or retail marketing, we have the solutions you need.
Bundle & Monetize Your Assets

.
Bundle a brand's assets to build unique, premium-priced subscription programs for enthusiasts.  Many assets are siloed in print, digital, video, experiential, archives, etc. but few have been bundled, generating a new, organic revenue stream.  We have the experience, expertise and the platform to integrate all aspects of your brand.
The Consumer Hierarchy
Streamline all subscription offerings into a logical hierarchy, deploying a single marketing budget that maximizes consumer ROI and LTV.  This strategy allows brands to consolidate customer service touch points to allow for automated up-selling and down-selling, creating frictionless transactions through establishing a single credit card-on-file.  As a byproduct, the ecosystem encourages offline-to-online payment migration across all consumer relationships.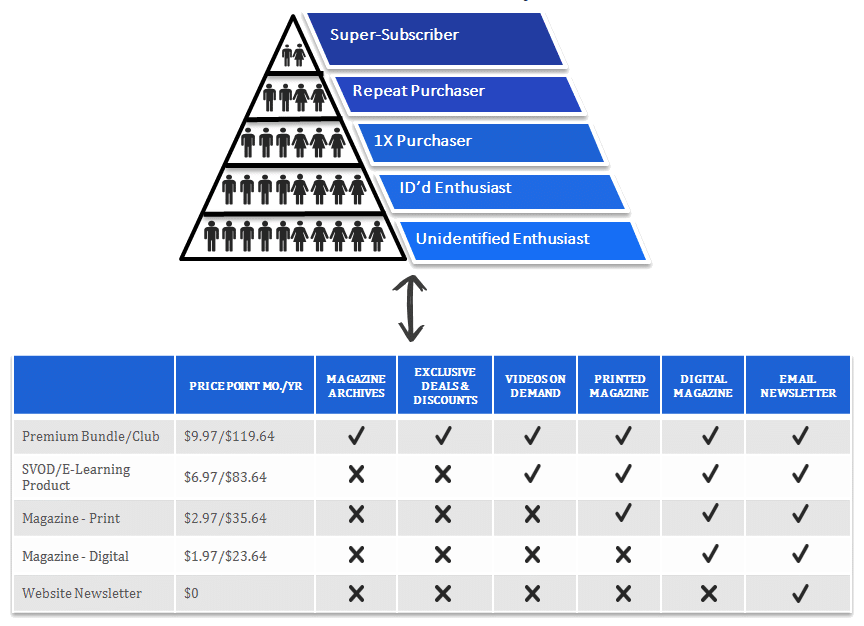 Database Management

.
We optimize current subscription revenue streams.  Through the combination of scoring algorithms and marketing know-how, we help clients optimize revenue streams through individualized pricing of new business, conversions, renewals & gift campaigns.  We have data expertise to manage marketing campaigns for maximum ROI.  Name segmentation & scoring to the measurement of test matrices help us offer a truly optimized acquisition funnel.  Real-time data helps us customize each customer journey, more effectively and less expensive than the larger data management companies.
Create Once, Publisher Anywhere

.
Our proven strategy for workflow design delivers efficient, true multi-platform publishing with a focus on digital first and curating the best for print.  Our web-based application supports this strategy by allowing an enterprise to coordinate content development, digital rights and labor costs of content in a unified interface.
Re-engineering Content Development

.
Coordinating content development, schedules & cost.  Imagine being able to track integrated advertising campaigns, giving you the ability to manage multiple, complex deliverables for clients on all platforms...it's simple to track multiple-format projects for large, single clients.  Similar to the content benefits, you can generate ideas across groups, schedule and track all projects, create cost estimates and track P&L's for each deliverable and the overall client.